Well, as it's just past the Easter weekend there is always the habit of over-indulging on chocolate for the rest of the week. This year, we went out of our way not to buy all the usual egg orientated chocolate. Instead, as I was visiting Mum and Dad this weekend and the weather was somewhat fabulous, we had a barbecue. Not the usual Easter fare I grant you, but we just couldn't miss the opportunity of a hearty feast al fresco.
Whilst whiling away the days, I took in a visit to one of the local plant nurseries near our home in Essex, and picked up a couple of stunners. I am always on the lookout for new subjects for my paintings and I wasn't disappointed. Heucheras are a fabulous plant with everything going for them, hardy, evergreen, flowers and a colour to die for. Heuchera Marmelade couldn't pass me by as I just could not resist the cerise undertones and orangey spectrum of the leaves. Heuchera Cinnebar Silver is a more subtle affair with silvery-grey leaves and red flowers. It found its way into my basket anyway.
Heuchera Cinnebar Silver
Beautiful plum/grey leaves with a silvery flock finish
Offset by tiny sprays of red-brown flowers
A real showstopper, Heuchera Marmelade
Orange, yellow and red leaves have a bright cerise pink underside
Flowers are a pinky red.
One of my favourite paintings of a Heuchera is by
Angeline de Meester.
Her portrait of Heuchera 'Hollywood' was on display at last year's
SBA
annual exhibition, although she has also painted a series including Heuchera 'Silver Scrolls' and Heuchera 'Creme Brulee' both of which are equally beautiful. Once the flowers are in full flow, I hope to paint one or both of my lovely purchases.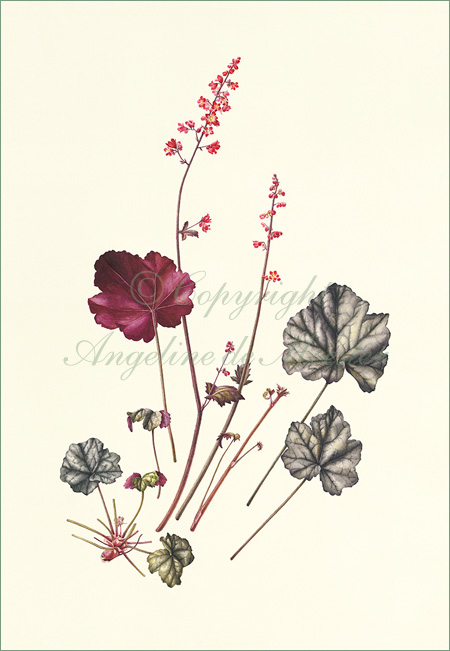 Angeline de Meester's stunning Heuchera 'Hollywood'
One of a series of paintings

This past week has also seen the final grades for the
SBA DLDC
Course 7 students. As I started on course 7, it was interesting to hear how everybody got on. All seems to have gone well and there are a good many high passes and credits amongst the results. Some of the lucky ones managed a distinction, which is something of an achievement, but all I am sure are well pleased with their progress. If you were one of those celebrating finishing the course this weekend, many congratulations and a jolly well done on getting so far.