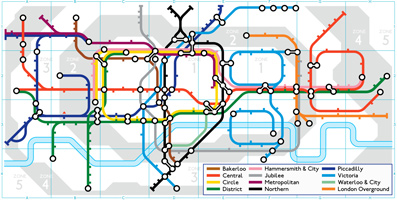 It may be a little odd to start a new post with a map of the London Underground, but this one celebrates 150 years of the transport system, and I am a great fan of maps! My favourite, of course, is the red Central Line, running right through the middle of the map, this line would regularly take me home from many happy shopping trips to the West End, long working days and visits to friends and family. With new bits being added all the time, including a new gondola over the Thames, the map is an ever changing feast of spaghetti, and I often wonder if there is actually any ground left under London. Maybe the reinforced concrete tube tunnels are the only support the city has. Hmmm, probably best not to ponder that one too much!
Ah, back to botanicals then. Working on two pieces at once is a strange way to go, but with time pressing it has to be done. It's also hard to do step by step blogging when you are doing two at the same time, hence you haven't really seen the progress.
So, the dreaded nemesis that is the mixed floral and the challenging illustration are being worked on together. For the mixed floral, I went with a tangly, twiggy combo of rose hips, hazel, Garrya, Camellia and berries. Lots of shiny surfaces here but it's not looking too bad. These phots were taken before I finished last week, so this one is more or less done now. Phew!!
Hazel buds
Camellia buds with just a hint of the colour to come
Hazel catkins and prunus berries
The illustration is a rather more formal affair, which is as it should be of course. The dissection details are being done in graphite, I love working with pencil as it has such a sophisticated, simple appeal. Going with a lovely, stately Iris reticulata with this one. There are some good opportunities for dissection and I haven't really had a chance to work in blue. What happened to the Hellebore? Ah, well, that all proved a bit much with the time allowed. Maybe next time old thing!